Important Dates in the History of Prairie Land Electric Cooperative, Inc.
Rural Electrification Act
The Rural Electrification Act was passed by Congress and signed by President Franklin D. Roosevelt in May 1936. It authorized REA to finance the construction of generation, transmission and distribution facilities to provide electric energy to rural areas not receiving central station electricity. Cooperative farm organizations and rural public power districts became the principal borrowers under the REA program.
Charter Signed
In the fall of 1938 interested citizens of Norton and Decatur counties met in various places for the purpose of organizing a rural electric company to bring the conveniences of electricity to their farms. Other efforts having failed, they were convinced that in order to get the job done they would have to do it themselves. The Norton-Decatur Cooperative Electric Company, Inc. received its charter on October 13, 1938 and became the first rural electric cooperative in Western Kansas.
The Norton-Decatur Cooperative Electric Company, Inc., Norton, Kansas filed its Articles of Incorporation with the Secretary of the State of Kansas on October 13, 1938, authorizing 600 shares of common stock with a par value of five dollars.
147 members had signed a membership list and paid their $5.00. The first minimum monthly payment was set at $3.50 for a farm and $2.10 for residents of a village. The value of capital stock was $3000. They had accumulated $735 in cash from sign-ups at this time.
First Board Meeting
The first board meeting was held at 2:00 p.m. at Norcatur City Hall. The first Board consisted of: Fremont Sleffel, President; E.W. Benton, Vice President; Alva Carpenter, Secretary-Treasurer; and board members H.O. Johnson, Robert Scott, A.F. Unger, George Haas, Iver Standish and Dell Ballinger. At this meeting, the first two consultants were hired; Robert W Hemphill of Norton as project attorney and Paul B. Hughes as system engineer.
KCC Certificate
The first certificate to operate as a utility was issued by the Kansas Corporation Commission on December 13, 1938. The area covered by this certificate was along Highway 383 from 8 miles east to 20 miles west of Norton and also an area south and west of the City of Norton.

The Kansas Corporation Commission signed a certificate of convenience to serve portions of Decatur, Norton, Graham, Sheridan and Thomas counties. Later, certificates were issued to serve Phillips and portions of Rooks counties.
First Annual Meeting of the Members
There were 39 members present at the first annual meeting held at the Norcatur City Hall.
First Headquarters
A two room office was leased for $13/month in the Broquet Building on east Washington Street in Norton. Velma Garton was hired as the first bookkeeper and full-time employee that year. Board member S. M. Ward was appointed acting project superintendent.
"A" Loan Granted
REA granted the first loan to service the territory for $88,000 to construct approximately 104 miles of line. Raymond H. Reed, then doing business in Abilene, Kansas, was selected as project engineer for the A Section.. Local consumers and potential consumers were hired to dig holes, set poles and anchors.
Board Changes
Fremont Sleffel resigned as president of the Board to become project superintendent in July, and was replaced as Presdient by Iver Standish.
First Consumers Connected
Line Energized
The first 97 miles of line were energized. Power was purchased from the City of Norton. The first section of line was from Norton east eight miles along Prairie Dog Creek to Calvert, and from Norton west along Prairie Dog Creek to near Jennings, then across the divide to Allison, and east along the North Solomon River to New Almelo. By February, 132 members were connected. Due to wartime material shortage further construction became virtually impossible.
Woodruff Acquisition
The town of Woodruff and its 40 meters in Phillips County was acquired from Northern Kansas Power Co. By the end of the year, there were 166 members connected.
Not For Profit
Articles of Conversion were adopted under the Electric Cooperative Act, on April 14, 1945, changing the cooperative to a nonprofit membership corporation. The association has been granted exemption from federal income tax under Section 501C-12 of the Internal Revenue Code.
Manager Hired
D.R. Ellermeier was hired as manager, and by the end of the year, the Corporation had grown to 361 consumers and 130 miles of line.
Heavy Construction
A new substation project east of Tasco was built in the fall and winter of 1947-1948 by Central Kansas Power Co. Norton-Decatur built lines from this substation to the towns of Tasco and Studley, north to Lucerne, to the Chicago church and school, toward Allison and west along the Solomon River. By the end of 1947, 442 members were receiving electrical service and an additional 2500 members had signed up.
Central Kansas Power Co.
During the spring and summer of 1948, Norton-Decatur's construction crew was "leased" to Central Kansas Power Co. to help build a 34.5 kV transmission line from Hoxie to 6 miles north of Dresden for power in the Decatur county area. Kanona, Norcatur and Clayton were acquired and a service outpost was created at Norcatur. 600 services were connected in 1948, just in time for a devastating ice storm.
Two Way Radio System
In 1949, two contractors were hired to assist Norton-Decatur line crews in bujilding electric power lines and connecting meters. Another service outpost was created at Hill City as lines were being built in Graham, Phillips and Rooks counties. The first two-way radio system was purchased and 500 new consumers received electrical service during the year.
1000 Customers Added
In 1950, 1000 new consumers were added, and the Board was motivated to create another service outpost at Phillipsburg.
New Office Building
The Board approved bids for a new office building in 1952. By the end of the year, 2772 miles of line had been constructed to serve 3650 consumers. However, the average farm only used about 158 kWh each month. Paired with the low rates, the usage was not enough to support the capital investment in line, substations, transformers, etc. The year ended with a $36,984 deficit. Another outpost was established in Stockton during the 1950s
The 1957 Blizzard
One of the most devastating blizzards in Kansas history ripped through the service territory. Nearly all of the more than 4000 consumers were without service for some period of time. Most of the system's 3075 miles of lines were damaged and major highways were closed for days.The hardest hit was in Stockton, where one 10-mile stretch of line was down with ALL poles broken. With the support of consumers, Norton-Decatur line crews, and crews from other rural electric cooperatives, most farms and residences had their service restored within two weeks.

Until 1957, electricity was purchased from the Central Kansas Power Company. Norton-Decatur was one of six rural electric cooperatives in western Kansas that organized a generation and transmission cooperative in 1957 (Sunflower Electric Cooperative). Thus, a projected CKP rate increase was avoided.
Promoting Electricity
In 1959, a transmission line was built from the Dresden Substation to 4 miles northwest of Oberlin to build a new substation there. The Norcatur outpost was moved to Oberlin. By the end of the year, the cooperative had $4.5 million in plant, 3,166 miles of line, 3,955 consumers and a deficit of $12,950. As kWh sales were not keeping pace with operating expenses, the cooperative began promoting the use of electricity, including electric heat.
Tranfer of Management
D.R. Ellermeier retired as general manager and was replaced by Phillip A. Lesh. During the 1960's, the number of farms decreased, but farm loads increased due to the expanded use of electricity. The margins for 1961-1968 were applied to prior year's deficits, resulting in positive equity by 1968.
CFC
The National Rural Utilities Cooperative Finance Corporation (CFC) was incorporated April 10, 1969, to provide supplemental financing for the REA borrowers.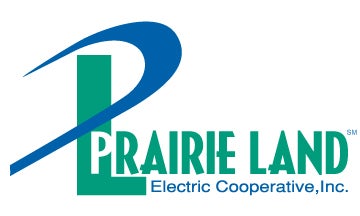 Merger Created Prairie Land
In April 1996, the memberships of both the Norton-Decatur Electric Cooperative and the Northwest Kansas Electric Cooperative Association voted overwhelmingly to merge the two cooperatives. The merger became effective 1-1-97.
Cheyenne and Rawlins county rural residents had been served by the Northwest Kansas Electric Cooperative Association since its incorporation in April 1945. Work began to incorporate the two companies into one, standardize board and personnel policies and find a new name for the company. The first annual meeting of the merged cooperative membership was on April 3, 1997. An important item on the agenda for that meeting was the announcement of the merged cooperative's new name — Prairie Land Electric Cooperative, Inc.
New Headquarters
September 19, 2000, the Board met to break ground on a new headquarters on 17 acres west of Norton. The new complex would bring all of Prairie Land's off-site warehouses and pole yard to a common site. Construction was completed in August 2001.
Aquila Acquisition
As an example of commitment to cooperatives, six neighboring electric cooperatives in western Kansas created the Mid-Kansas Electric Company and successfully purchased the West Plains electric system owned by Aquila, Inc., an investor owned utility. This purchase added 15,084 meters in 67 towns to Prairie Land Electric's customer base. Prairie Land Electric Cooperative's service territory now extends east from the Washington/Marshall county line westward 270 miles to the Colorado border.


Concordia Ribbon Cutting and Open House
By June of 2008, the newly remodeled Prairie Land Electric office in Concordia re-opened its door for business, after being closed since 2001. On July 22, 2008, the Prairie Land Electric Board of Trustees, staff and community celebrated with an open house and ribbon Cutting
St. Francis Warehouse
Groundbreaking for a new warehouse on 5 acres near St. Francis began in March of 2012 and construction was completed by November with state-of-the-art energy efficiency. On December 10, crews began moving the office and inventory from Bird City to this new location.
Headquarters Expansion
Prairie Land embarked on an 8400 square foot office expansion project that creates a secured office space necessary to house new technologies. The new office addition utilizes ground source renewable energy and was installed by Prairie Land's HVAC department, saving thousands of dollars over bids from outside venders.

Big Step with Renewables
Johnson Corner Solar Project began operation in spring of 2020. The $37M project was financed and constructed by Lightsource BP and is located 2 miles southwest of Johnson City in Stanton County, KS. All of the energy from the project is sold to Sunflower Electric in a 25 year power purchase agreement. The project delivers 20 MW of clean, low-cost, on-peak energy, more than doubling the solar capacity of Kansas at the time operation began. It also served to reduce the load on a nearby transmission line that was approaching capacity, avoiding or delaying an expensive upgrade.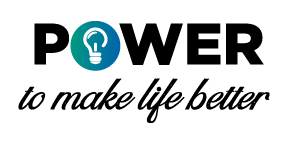 Adopting a New Corporate Culture
Prairie Land embarked on an important journey to update the way we do business. Employees were surveyed and a steering committee was formed to write a new mission statement, create a tag line, and define the company's core values.
The mission of Prairie Land Electric Cooperative, Inc. is to improve the quality of life for our members and support our communities by providing safe, reliable energy services and education.
The tag line is "Power to Make Life Better."
The core values are Safety, Respect, Integrity, Unity and Accountability.