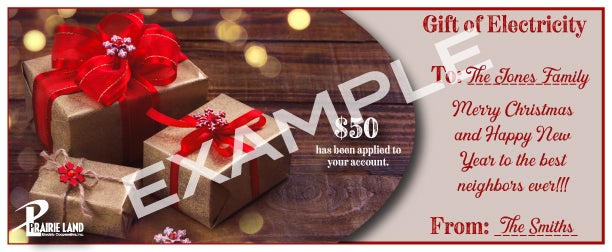 Helping someone with their utility payment is an especially practical and thoughtful gesture and convenient gift for any occasion. When you send this form, along with a check or money order in the amount of your choosing, your gift will be added to the recipient's Prairie Land Electric Cooperative, Inc. account and they will receive a Gift of Electricity receipt.  (Please allow up to one week for your gift payment to be applied.)
Please note:
•To print a blank form, click on the pop-out icon in the upper right of the document below. To fill it out electronically before printing, click on the name of the file that is right underneath the document. 
•You must name a recipient-We are unable to choose a random recipient for you. 
•We are only accepting gift payments by check or money order. 
•You decide on an artwork and then what to print in the amount, to, from and message fields.
•The recipient is mailed a receipt. It is not a gift certificate, since the amount will already have been applied to the account.
•Please complete the form, then print and mail it to the Norton office with your payment. Forms are also available at the offices and can be mailed to you on request.
•Please include your information in case we need clarification on who the recipient should be. 
Gift of Electricity Fillable Form